We are pleased to share with you below, presentations from the "Delivering for Nutrition in India: Learnings from Implementation Research" conference, which was held in New Delhi on November 9-10, 2016. To learn more about the conference, click here.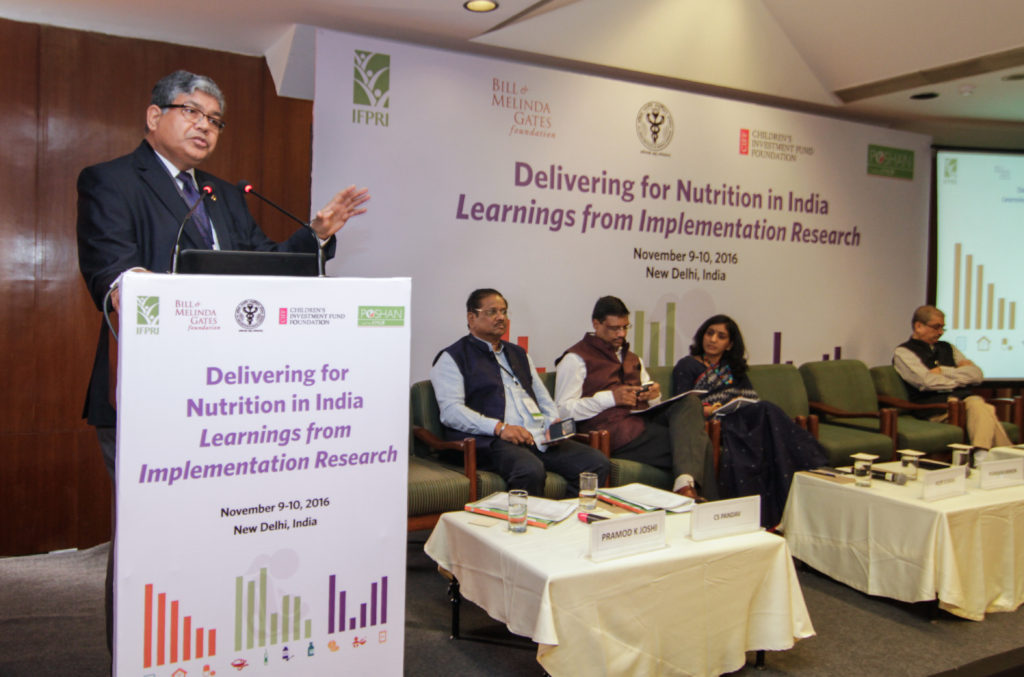 Presentations
Introductory session: The relevance of implementation research in the context of nutrition in India
Welcome and conference overview
Dr. Purnima Menon, IFPRI
Evidence base for nutrition action in India: Where are the gaps?
Dr. Rasmi Avula, IFPRI
Session I: Assessing coverage and performance of nutrition interventions: Research experiences from across India
Insights from the India Health Report on coverage of nutrition interventions: What's available, what's missing?
Dr. Neha Raykar, Public Health Foundation of India
A tool to assess gaps in district-level coverage of nutrition interventions in multiple domains
Dr. Sumathi Swaminathan and Dr. Jithin Sam Varghese, St. John's Research Institute
Integrated Child Health and Immunization Survey (INCHIS): Objectives, methodology and challenges
Dr. Santanu Pramanik, Public Health Foundation of India
Session II: Implementation research on delivery of interventions during pre-pregnancy through lactation
The Adolescent Girls' Anaemia Control Programme: A decade of programming experience to break the inter-generational cycle of malnutrition in India
Dr. Preetu Mishra, UNICEF
Insights from formative research from Bihar and Uttar Pradesh on maternal diet diversity during pregnancy
Dr. Sebanti Ghosh, Alive & Thrive
Improving women's diet quality preconceptionally and during gestation: Effects on birth weight and prevalence of low birth weight—A randomized controlled efficacy trial in India (Mumbai Maternal Nutrition Project) 
Dr. Sirazul Ameen Sahariah, Centre for the Study of Social Change
Session III: Implementation research on delivery of interventions during pre-pregnancy through lactation [continued]
Antenatal care and counseling measures increase iron and folic acid receipt among pregnant women in Bihar
Dr. Amanda Wendt, University of Heidelberg
Effect of peer counselling by mother support groups on infant and young child feeding practices: The Lalitpur Experience
Dr. Arun Gupta, BPNI
Impact of nutrition interventions on infant feeding and other outcomes in Uttar Pradesh  
Dr. Laili Irani, Population Council
Session IV: Implementation research on delivery of preventive and curative interventions during early childhood
Insights from formative research on closing gaps in delivery of complementary feeding interventions from Bihar and Uttar Pradesh
Dr. Archna Ghosh, Alive & Thrive
Improvements in growth monitoring in the context of the Bihar Child Support Program, a conditional cash transfer program
Dr. Shruti Viswanathan, Oxford Policy Management
Impact of point of care multiple micronutrient fortification on anemia, iron status and cognitive development of pre-schoolers
Dr. Madhavan Nair, National Institute of Nutrition
SPRING- Kilkaari community early development intervention for India: Baseline findings and intervention implementation insights
Dr. Gauri Divan, Sangath
Community-based management of severe acute malnutrition in India: New evidence from Bihar
Dr. Alan Pereira, Medicins Sans Frontiers
Addressing severe-acute malnutrition in Rajasthan using community-based strategies
Dr. Deepti Gulati, GAIN
Growth prospects of children after discharge from malnutrition treatment centers: A study from Jharkhand
Dr. Jyoti Sharma, Indian Institute of Public Health, Delhi
Session V: Big numbers about small children: Research on nutrition financing
Estimating the economic benefits of addressing undernutrition
Dr. Harold Alderman, IFPRI
Cost implications of scaling up essential nutrition interventions in India and all states
Dr. Suman Chakrabarti, IFPRI
Budget and expenditure analyses for centrally sponsored schemes addressing nutrition in India
Dr. Avani Kapur, Accountability Initiative
Nutrition financing at the state-level: The case of Rajasthan
Dr. Yashodhara Rana, Results for Development
Session VI: Food supplementation programs for nutrition in the Indian context: Current status and future directions
Production of fortified food for a public supplementary nutrition program: Performance and viability of a decentralized production model for the Integrated Child Development Services Program
Dr. Salil Kumar, The Nutrition Initiative of the Tata Trusts
Nutrition services in Bihar – A performance assessment of service delivery
Dr. Ronald Abraham, IDInsight
Changes in the supply of supplementary nutrition during early childhood between 2004 and 2014: Findings of the FOCUS study
Dr. Biraj Patnaik, Office of the Commissioners of the Supreme Court
Improving mid-day meal delivery and encouraging micronutrient fortification to reduce anemia and malnutrition among children (Odisha)
Dr. Urmi Bhattacharya, JPAL
Session VII: Taking it to the frontline: Improving frontline worker motivation, performance and convergence in health and nutrition
Effectiveness of an innovative mHealth intervention to improve coverage of proven maternal and new born health (MNH) interventions in rural India: A quasi- experimental study
Dr. Dhiren Modi, SEWA-Rural
Evaluation of the Team-Based Goals and Performance-Based Incentives (TBGI) Innovation in Bihar
Dr. Sunil Babu, CARE
Impact of caregiver incentives on child health: Evidence from an experiment with Anganwadi workers in India
Dr. Prakarsh Singh, Amherst College
Session VIII: A new platform for delivering nutrition impacts: Emerging research on self-help groups and rural livelihood programs
Baseline findings from two impact evaluations using self-help group platforms to deliver nutrition impact (Bihar and multiple states)
Dr. Kalyani Raghunathan, IFPRI