Early childhood is a precious time in human life– a period marked by rapid physical and cognitive development. Good nutrition and a supportive environment are critical for normal child development during the first 1,000 days– from conception to a child's second birthday. A package of 14 essential nutrition-specific interventions that span the spectrum of prevention to cure have been identified to support proper child development.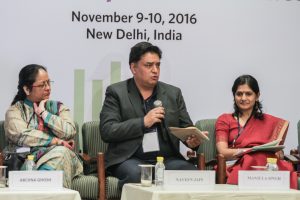 One of the sessions during the "Delivering for Nutrition in India: Learnings from Implementation Research" conference, focused on preventive and curative interventions. The session was co-chaired by Ms. Manjula Singh from Children's Investment Fund Foundation and Mr. Naveen Jain, Mission Director, National Health Mission, Rajasthan. The session featured two studies on child feeding practices and micronutrient supplementation, two on child caregiving, and three studies on treatment models for severely malnourished children and one on improving growth monitoring, all of which were drawn from different geographic regions in India.
Ms. Archna Ghosh from Alive & Thrive began the session with a study from Bihar and Uttar Pradesh, which identified supply and demand-side gaps in the delivery of the complementary feeding intervention. Although social norms and beliefs of child feeding were found to be the barriers, social support and timely counselling improved feeding practices. Dr. Madhavan Nair from the National Institute of Nutrition, discussed findings from a multiple micronutrient (MNP) fortification study conducted in Telangana, where adding multiple micronutrient powders to the meals of preschool children improved anemia and iron deficiency but had no effect on growth or morbidity outcomes.
Dr. Gauri Diwan from Sangath presented on a home-based intervention model, implemented in Haryana, where trained child development workers provided information to women on child care during 27 monthly visits from pregnancy until the child is two years old. Dr. Ganapathy Murugan from the Public Health Resource Network (PHRN) shared that a center-based crèche model, implemented by PHRN and collaborators in tribal areas of four states, in combination with participatory learning action with women's groups and home visits, had positive impact on underweight and wasting among children. These two models illustrate a combination of opportunities for engaging mothers and communities to improve child growth development.
Of the three presentations focusing on the treatment of severely malnourished children, two were on community-based strategies while one was on a center-based solution. The session findings highlighted that a comprehensive integrated strategy is required to treat Severe Acute Malnutrition (SAM) and these should be context-specific. Dr. Alan Pereira from Medicins Sans Frontiers, shared findings from a study in Bihar, which showed that mid-upper arm circumference can be used to screen for SAM. The importance of the role of frontline workers in reducing relapse rates was highlighted. Ms. Deepti Gulati from the Global Alliance for Improved Nutrition, presented on a Community-Based Management of Acute Malnutrition (CMAM) model in Rajasthan. The model included an intense treatment phase of 8–13 weeks and a 16-week follow-up phase, which resulted in improvements in child nutrition status. Strong political commitment and effective management and transparency were identified to be important enabling features for implementing this intervention. Dr. Jyoti Sharma from the Indian Institute of Public Health, presented findings from a center-based treatment model for SAM in Jharkhand. She reported high relapse rates among children discharged from the Medical Treatment Centers (MTC) and highlighted the need for a strong community-level strategy for ensuring follow-up after the treatment.
In his closing remarks, Mr. Naveen Jain described the distance of the MTCs from the villages and loss of family income during the treatment period as the biggest deterrents to using the MTCs. He reiterated the need for identifying appropriate community-based strategies and follow-up mechanisms to ensuring proper treatment of children with SAM and further emphasized the need for promoting appropriate child feeding practices to ensure prevention of SAM.
Covering a broad spectrum of preventative and curative interventions during the early childhood, the session concluded with much to ponder on. While the presentations shed light on specific topical areas such as how to improve child feeding practices and models of care for child development and treatment for severe acute malnutrition, they also were illustrative of the importance of context-specific and intervention-specific implementation research.
Written by Rasmi Avula, IFPRI
Related resources:
POSHAN Research Note: A Review of Evidence-Based Interventions in Indian Nutrition Programs
IFPRI Discussion Paper: The Operational Evidence Base for Delivering Direct Nutrition Interventions in India
Alive & Thrive Technical Brief: Insight 2, Why Stunting Matters
Alive & Thrive Technical Brief: Insight 3, Interaction of Nutrition and Infection and the Effect on Early Child Growth
Alive & Thrive Technical Brief: Insight 4, Nutrition and Brain Development in Early Life
Alive & Thrive Technical Brief: Insight 7, Ensuring Adequate Nutrient Intake During the Period of Complementary Feeding
Project Grow Smart: Intervention Trial of Multiple Micronutrients and Early Learning Among Infants in India