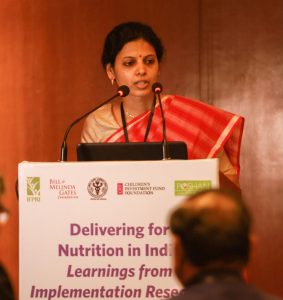 IFPRI hosted the first-ever nutrition implementation research conference in New Delhi, on November 9–10, 2016. This blog is the first in a series to summarize the conference. The first session was chaired by Dr. Deepika Chaudhery of the World Bank and Dr. Rasmi Avula of IFPRI and called upon research experiences from across India on assessing the coverage and performance of nutrition interventions. Speakers representing the Public Health Foundation of India, the National Institute of Nutrition and St. John's Research Institute made presentations on their research on nutrition coverage in different contexts in India. These presentations aimed to identify and discuss gaps in coverage, interstate variability and the uptake of nutrition interventions across India.
The session opened with Dr. Neha Raykar's presentation on PHFI's India Health Report – Nutrition, 2015. The IHR provides a state level overview of nutritional status, determinants and interventions, drawing upon over 120 indicators among 29 states of India. It highlights uptake and awareness of services, as well as variation in coverage across states, as drivers or inhibitors of change between the time periods of 2005-06 (NFHS 3) and 2013-14 (RSOC). Dr. Raykar went on to present associations between coverage rates and stunting, revealing that while overall, there have been significant improvements in coverage of essential nutrition interventions, progress on reducing stunting has been slow among states that had low coverage in 2005-2006.. She called for the scale up of Essential Nutrition Interventions (ENIs), supplemented by increased attention to nutrition- sensitive interventions.
Dr. Avula Laxmaiah began his presentation by identifying nutrition as an indicator of overall development in the country. He spoke of the 'Triple A' approach, wherein assessment, analysis and action are the essence of surveillance and assessment of intervention coverage. Dr. Laxmaiah presented the findings from a multi component district specific health and nutrition education intervention, implemented in partnership with state governments in the high burden districts of Andhra Pradesh (2), Gujarat (7), Jharkhand (5), Telangana (1) and Uttar Pradesh (1). Following the Triple A approach, this study was carried in 3 phases: formative research, intervention development and implementation, and finally impact evaluation. This research found low reliance on government primary health care and gaps in last mile uptake and delivery of services.
Dr. Swaminathan and Jithin Varghese from St. John's Research Institute presented the RAPID short survey tool, developed to assess coverage. This tool was used to assess gaps in district level coverage of nutrition interventions in the districts of Nandurbar (Maharashtra) and Sirohi (Rajasthan). This tool aims to alleviate common problems that occur during surveys- interview fatigue, high cost and time, data falsification- by breaking up the assessment into a 'checklist' questionnaire, followed by a 'deep dive' survey only among households identified by the algorithm. Through this selective in-depth analysis, the team was able to better understand the relationship between demand and supply-side issues in provision of nutrition interventions. Demand side gaps were found to be poor uptake of IFA, deworming tablets and supplementary nutrition, as well as poor IYCF knowledge, accompanied by supply side gaps of poor IFA, deworming tablet availability as well as poor knowledge of IYCF practices among health care workers.
Finally, Dr. Santanu Pramanik presented the objectives, methodology and challenges of the Integrated Child Health and Immunization Survey (INCHIS). As administrative estimates of immunization coverage are often inaccurate in their recording, compiling and reporting, household surveys are preferred to monitor coverage. As part of the evaluation of Mission Indradhanush, and planned by the Immunization Technical Support Unit (ITSU) of the MoHFW, INCHIS studies several aspects of immunization service delivery. The team found that regular back and forth between the ITSU and their survey implementation partner (AC Nielsen) minimized selection bias and prevented the adoption of convenience sampling in the field.
This first session on the coverage and performance of nutrition interventions started conversations about challenges in coverage, variability across states and uptake of nutrition interventions in India, setting the tone for the two-day event on implementation research.
Written by Nitya George, IFPRI.
Related resources: