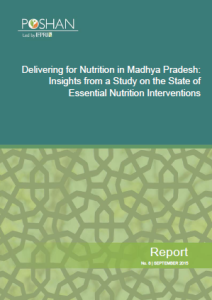 POSHAN is pleased to release a report on the state of delivery of ten essential nutrition interventions (ENIs) in Madhya Pradesh. This report showcases results of a recently conducted study in Tikamgarh, Shahdol, and Dindori. Using household and frontline worker surveys, data were gathered on a variety of topics including household conditions, exposure to services, knowledge of infant and young child feeding (IYCF), frontline worker training and knowledge of the types of services to be provided.
In each district, the authors selected four blocks (n=12) and 25 villages (n=300) from each block. One Anganwadi Center (AWC) per village, with an Anganwadi Worker (AWW), along with the Accredited Social Health Activist (ASHA) and the Auxiliary Nurse Midwife (ANM) working in the same area were included in the study; four households (two with children 0─5.9 months and two with children 6─23.9 months) were randomly selected. The authors generated descriptive summaries on maternal, household, FLW, and AWC characteristics; exposure to interventions; and state of service delivery and coordination. Here are some highlights:
30% of mothers in the study had no schooling.
Mothers reported consuming only two of the nine food groups, reflecting low dietary quality.
Most households were food secure; but 20% of the households reported being anxious about availability of food.
Exposure to interventions during pregnancy was higher than the exposure to interventions during 0─6 months and 6─24 months after birth.
Nearly 70% of target mothers reported attending Village Health and Nutrition Days (VHNDs) and 50% reported being exposed to most ENIs.
Exposure to ENIs at home was low. Although 85 percent of mothers were visited by FLWs in the last three months, less than 10% of mothers reported receiving any IYCF counseling during home visits.
Positive results on coordination among FLWs, with nearly all of the FLWs reporting on always coordinating to deliver the interventions; however, there was no clear or uniform method of coordination across the three districts.
Based on these research findings, the authors recommend identifying reasons for missed opportunities for IYCF counseling during home visits, as well as the reasons for low exposure to pediatric IFA supplementation, and low immunization. Furthermore, to strengthen service delivery, authors recommend ensuring role clarity among FLWs, harmonizing of key health and nutrition messages, and building mechanisms for monitoring and operations research to assess and track the progress of service delivery.  Lastly, it is imperative to invest in efforts to address the underlying determinants of malnutrition, such as poverty, food insecurity, low education, and poor sanitation and hygiene that require multisectoral approaches to reach at the same time, the same household, same mother, and same child.
Click here, to find out about the delivery of these ten ENIs in Madhya Pradesh
Click here, to find out about the delivery of these ten ENIs in Odisha